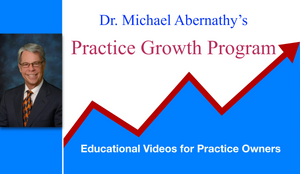 The Practice Growth Program was created for practice owners who want to learn Dr. Michael Abernathy's practice growth and profitable systems. 
This program consists of seven educational videos on the following topics:
1. The Art of Scheduling Productively
2. The Art of Eliminating Cancellations and No-Shows
3. 100% Case Acceptance
4.
 

 Bonus and Profit-Sharing Structure
5. The Hygiene Factor - The First Step in 100% Case Acceptance
6. Three Pillars of a Super General Dental Practice
7. Marketing The 180 Practice
We will ship you all the videos and written materials in a USB drive so you can watch them from anywhere at your convenient. 
This program is perfect for YOU and your TEAM to learn and implement the proven systems that Dr. Michael Abernathy had used in his $7 million+ dollars dental practice and thousands of other dental practices in the US for the past 40 years.  
The best way accelerate your practice growth without going through trial and error is to invest in the proven systems that work.
Investment in this program to take your practice to the next level and achieve even more success.  
* WE WILL DONATE 50% OF THE REVENUE FROM THIS PROGRAM TO CHARITIES TO SUPPORT ORPHANS AND ABANDONED CHILDREN IN AFRICA, SOUTH ASIA, DOMINICAN REPUBLIC, AND A FEW OTHER COUNTRIES.